"Hardwired To Self-Destruct"
by Alex Temes from HowlinHockey
Tweet to Alex
With crazy schedules I put out the beacon for guest recappers, so Alex Temes from the Yotes site Howlin' Hockey stepped up and volunteered. I cannot be grateful enough. Please take a read and follow him on twitter.
Hey Puckin Hostile and Blackhawks fans, my name is Alex Temes and I'm a staff writer for Howlin' Hockey, a Coyotes blog. In Coyotes Twitter-land, I am the King of Hot Taeks, the Viceroy of Unpopular Opinions and I'm here to give you your Coyotes-Blackhawks post-game rundown.
Recapping Thursday night's game, I broke it down by period and took notes through the whole game. One note I took was during warmups, Ryan Hartman parked himself in the right circle during warm ups and spent five or so minutes doing his best bar-south Alex Ovechkin impression. The funny part was he only made like two shots.
Also worth noting is how useless Coyotes GM John Chayka has been to me this season, so I took the opportunity to join the rest of the NHL for a quick sec to jokingly mock the Coyotes:
https://twitter.com/temesy24/status/834932001497022464
The game really ended up being a tryout for the Coyotes in that whoever succeeded in the game may get the opportunity to be traded to Chicago and be your next playoffs savior like Antoine Vermette (I have one Hawks jersey and it's Vermette's so bite me). In terms of play, the first period went a little something like this: the puck dropped, the Coyotes brought it into the zone, turned it over and the Blackhawks scored. The goal officially read out Schmaltz from Toews and Panik, but that goal had defensive meltdown written all over it and as someone who watches all 82 painful games of Coyotes hockey, I can assure you it was because Luke Schenn and Oliver Ekman-Larsson were paired together to start the game.
Following that first goal, there was a good 4-5 minute lull of the Coyotes shuffing one way, the Blackhawks shuffling it back and so on. The one thing I did notice was (sorry for the Coyotes crap again) Ryan White and Max Domi were on the same line for a little while and if there is any way to stymie offensive play with Max Domi, it's putting him out there with Ryan 'Grit Wins Games In Dave Tippett's World' White.
Jakob Chychrun broke the Arizona goose egg with a monster blast from the point at 7:36 mark to knot the game up. This was your run of the mill puck movement and snap-shot kind of goal. Crawford didn't really have shot at blocking it.
That goal was followed up by two more Blackhawks goals from Hartman (his 15th) and Kane (his 21st). During this time, the Blackhawks weren't really outplaying Arizona, but they certainly capitalized on their opportunities and made Arizona pay for their mistakes. For instance, Coyotes mistake #1 was skating White instead of the chick who won the shoot for loot game during second intermission and #2 was Mike Smith doing Mike Smith goalie things (i.e. giving up soft goals and misplaying pucks far too close to the goal line).
Arizona did stick around though, at least for the first, offering up two goals in response from White (
groan
) and ex-Blackhawk/future Blackhawk Radim Vrbata. The period ended with Brian Campbell sitting for two, with the allegation of delay of game.
But after the first, it's as if the Coyotes were "Hardwired to Self-Destruct"…
The second period went a lot like a typical Coyotes-Hawks game post-2012 playoffs would go: my Captain, Shane Doan, bitched at the linesmen over obvious offsides/icing calls, the Coyotes played crap defense and the Blackhawks scored two gimme goals. Old Man Michal Roszival (no relation to Pucking Hostile's Uncle Roszival I hear) scored his first at 2:56, from future Coyotes trade acquisition Nick Schmaltz and Captain Serious.
Kane followed Roszival up 10 minutes later, scoring his second as the Hawks really began to tear down every shred of decency the Coyotes had left. When it came down to it in the second, the Blackhawks cherrypicked a few good offensive opportunities and made the sloppy Coyotes defense pay for it big time.
One weird situation to note was the near-Blackhawks goal save by Jordan Martinook at the goal line. Martinook slid into the net with the puck on him, but the call was waived off. Many in-arena jeered in dismay (including the idiots in front of me who got all pissed that I decided to stand and cheer when my team scored earlier) when the call was waived off, but the net came off far before the puck neared the goal line and it was not like Martinook was standing there to flip the net over Henrik Lunqvist-style.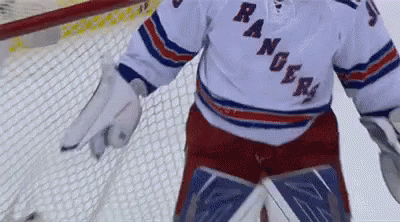 That no-goal didn't really matter though, because after the Hawks killed a 4-minute double minor for Dick Panik's shotty dental work on Martin Hanzal, Patrick Kane netted his hat-trick and Chelsea Dagger became the official theme song to my nightmares.
One other note about the third period: Alex Goligoski nearly scored an own goal. That's how bad this season has gone for Arizona.
4 Key Points Of The Game Plus One Broadcasting Beef


1. The Coyotes had life early, but just could not sustain it: Very characteristic of a streaky team with young talent, the Coyotes hung with Chicago through the entirety of the first, but absolutely turtled for the other 40 minutes. This matchup will be more interesting in two years.

2. The Blackhawks are very good at hockey: This fact will come as no surprise to any Hawks fans. Chicago played solid defense most of the game, moved the puck well and had amazing chemistry from whistle to whistle, particular on what you call the PTSD Line.

3. Blackhawks fans got to see what the pickings look like for the trade deadline: The Coyotes are out of it (I'm not kidding myself) and we are gonna move expiring contracts (see Michael Stone's departure to hell…uhhh I mean Calgary). Radim Vrbata, Martin Hanzal, Luke Schenn and even, maybe, probably not Shane Doan were out on display Thursday night. It's a 1st round pick or best offer at this point.

4. Patrick Kane is very good and it will take a whole set of top pairing defensemen to shut him down in a playoff series.

5. NBCSN/CSN can screw off: The Coyotes don't get national broadcasts very often, but when we do it's typically against Chicago and in Chicago. They never get a fair shake in the media and it doesn't help what little street cred we have when Jeremy Roenick makes up trade rumors at the intermission desk on a whim and Eddy Olcyzk mocks our every passing attempt.
Next Up: Chicago plays St. Louis on Sunday, or so the NHL.com calendar says. Do Coyotes fans a favor and wipe center ice with Ryan Reaves nose please.
For more Coyotes content, including any potential Chicago-Arizona trade rumors, prospect reports and trade targets, check out
HowlinHockey.com
and follow our Twitter page
@HowlinHockey
or my Twitter
@temesy24
. Or act like you never saw this. Your call.